WINNER!
THE WEB MARKETING ASSOCIATION IS PROUD TO PRESENT THIS 2017 MOBILEWEBAWARD FOR OUTSTANDING ACHIEVEMENT IN MOBILE DEVELOPMENT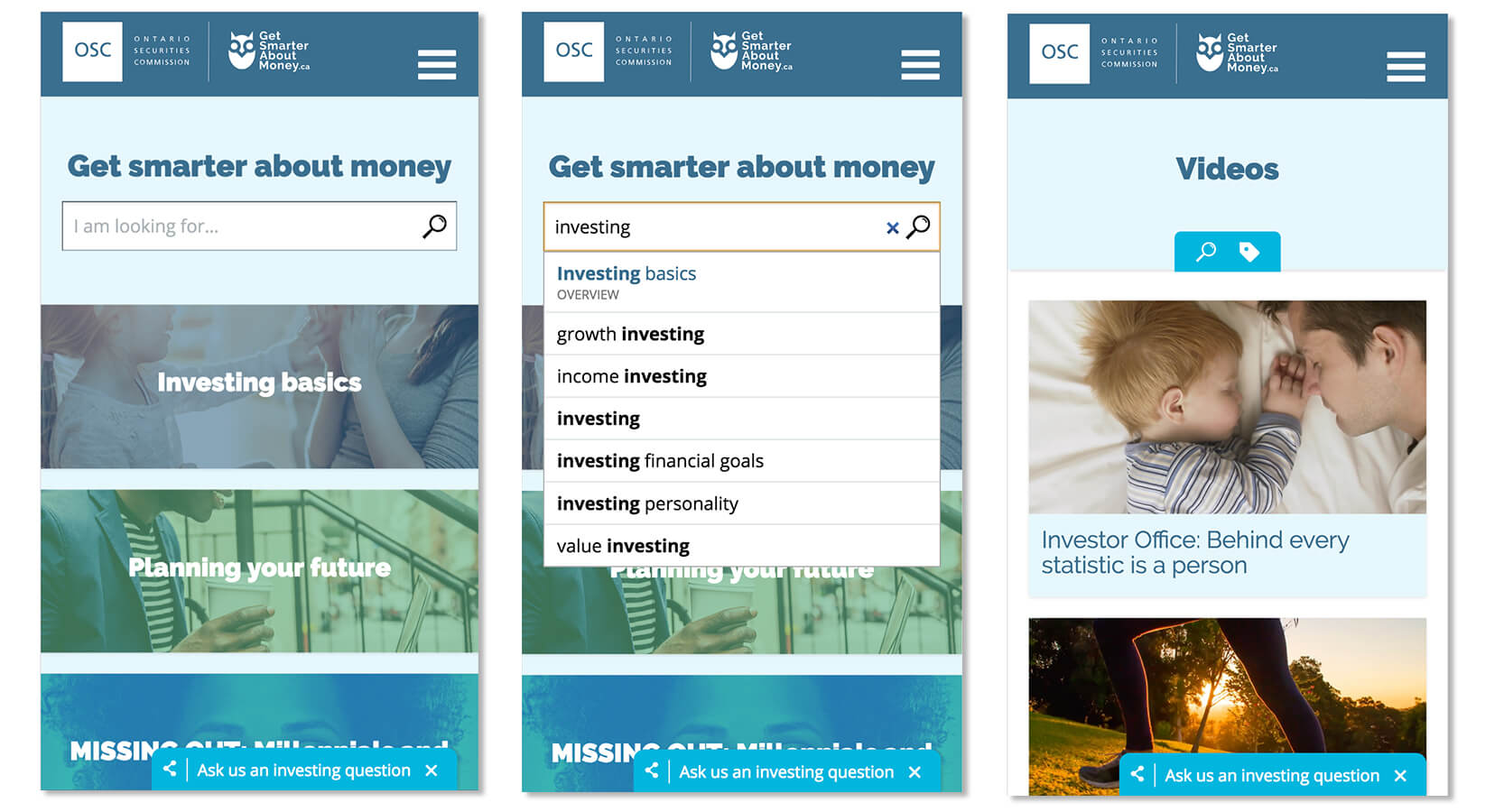 To: Ontario Securities Commission's Investor Office
For: Ontario Securities Commission's GetSmarterAboutMoney.ca
Award: Best Information Services Mobile Website
Click here to see entry creative
About the Entry


Money: you earn it, use it, and, like many people, you might also worry about it. Investing is one way to plan for your financial future, and we need to get smarter about money. Each year, millions of Canadians visit GetSmarterAboutMoney.ca, the consumer website offered by the Ontario Securities Commission's (OSC) Investor Office, to do just that.

We live in a world where we juggle retirement income and supporting children and aging parents, plus household and lifestyle expenses. As people continue seeking opportunities for a better future, they're also more exposed to fraud and other investment risks with potentially life-changing outcomes. That's where GetSmarterAboutMoney.ca can help. GetSmarterAboutMoney.ca offers a wide range of free resources, including articles, fact cards, calculators, and videos on investing and financial literacy. Topics include understanding investment products, working with an advisor and recognizing the red flags of investment fraud.

We modernized the site with a mobile-first strategy, making it more accessible and engaging. Some of the site's technical achievements include mobile-responsiveness; integration of responsive fact cards and other tools/resources; conformance with WCAG 2.0 Level AA of accessibility requirements under Ontario's AODA law (also offers a high-contrast version that meets WCAG 2.0 Level AAA contrast requirements); and implementation of top-level navigation with an intuitively structured mega-menu based on how people search for information.

Since successfully launching on June 20, 2017, we've seen a whopping 54% increase in mobile traffic.
Award Credits
Contributors:
| | |
| --- | --- |
| Director: | Tyler Fleming |
| Manager: | Raj Balasubramanian |
| Senior Advisor: | Jason Durham |
| Advisor: | Victoria Marn |
| Senior Advisor: | Justin Leung-Yinko |
| Director of Strategy and Creative Services, Context Creative: | Lionel Gadoury |
| Digital Design Specialist (Web, Motion, Mobile, Development), Context Creative: | Katrina Lovrick |
| Account Manager, Context Creative: | Mary Huang |
| | Simalam Inc. |
| | |