WINNER!
THE WEB MARKETING ASSOCIATION IS PROUD TO PRESENT THIS 2017 MOBILEWEBAWARD FOR OUTSTANDING ACHIEVEMENT IN MOBILE DEVELOPMENT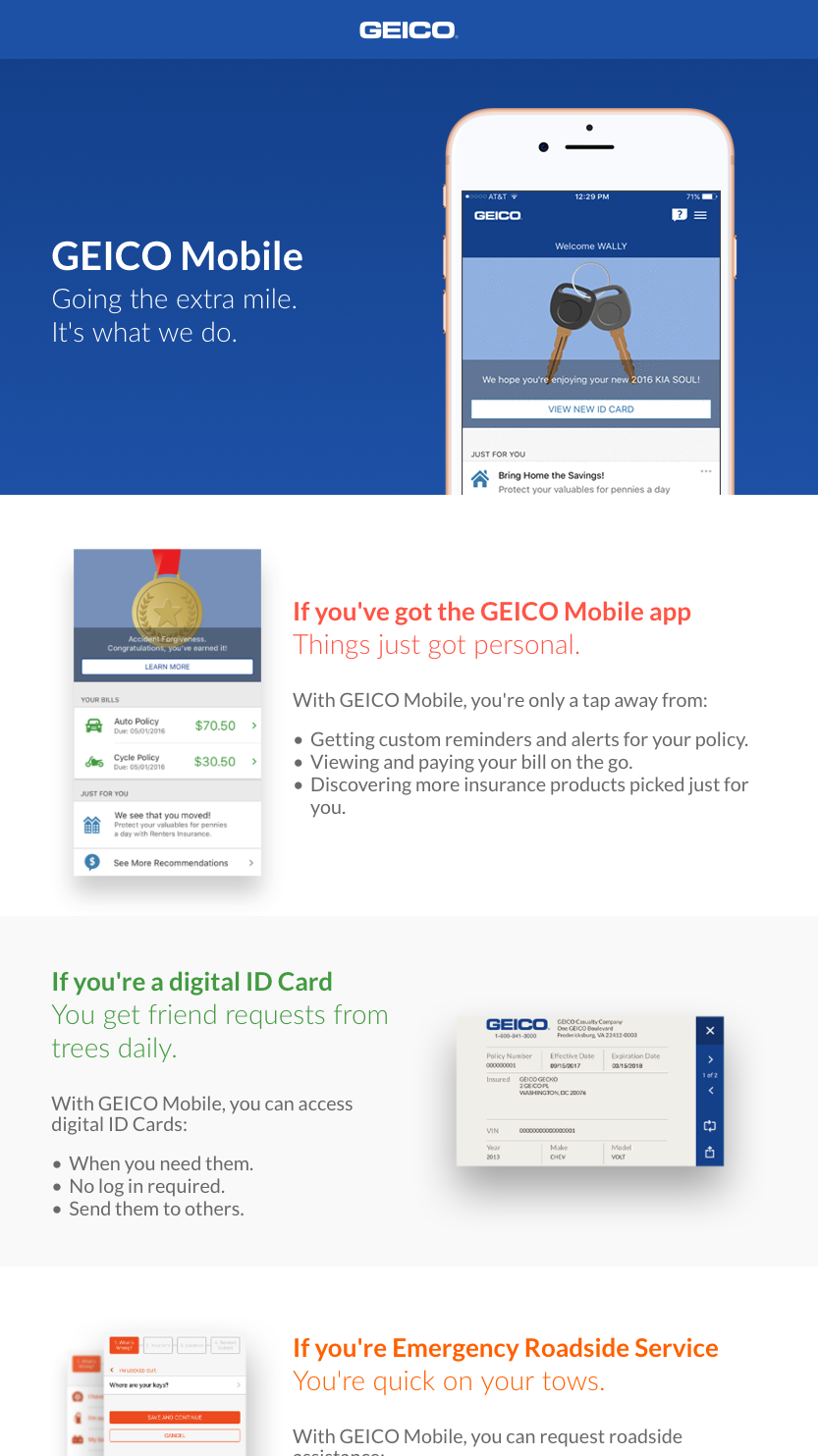 To: GEICO
For: GEICO Mobile
Award: Best Insurance Mobile Application
Click here to see entry creative
About the Entry


GEICO Mobile is there for YOU – any time, any place.

GEICO is reimagining insurance by helping you beyond your insurance needs with technology. We cater to your needs whenever you need us. GEICO Mobile took the industry by storm with the introduction of digital ID Cards for your vehicles and Emergency Roadside Service cards. Now, we offer digital cards for your properties too – convenience at your fingertips!

We have gone the extra mile by introducing awesome features that are personalized – making it all about you! It's what we do. Our Special Offers section may provide you with a quote for insurance products picked just for you. Still making it all about the you, we provide custom reminders and alerts about your policy. Taking it one step further, we can also help alert you about any recalls on your vehicles or that you are due for an oil change in the Vehicle Care section.

At the end of the day, we want to make sure you get a hug if you need a hug and to lend an ear if you need someone to talk to. Our virtual assistant Kate is there for you with just a tap! We take pride in designing an award winning digital experience for our customers.
Award Credits
Contributors:
| | |
| --- | --- |
| Mobile & Internet VP: | Steve Smith |
| Mobile & Digital Experience Director: | Peter Meoli |
| Digital Experience Manager: | Carolyn Tran |
| Mobile Managers: | Lwin Moe, Irina Sidelnikov, Judy Meng |
| Mobile Development Lead: | Charlie Savoye, Anthony James, John Niswander, Jamie Sharp |
| Mobile Analyst Lead: | Chrissy Large, Juliana Taylor, Brian Knight, Peggy Zinck, Joe Dipietro |
| Mobile Product Owners: | Erika Towles |
| Digital Experience Lead: | Kait Hines, Dave Prescott |
| Designer: | Rachel Smith, Gypsy Black, Joey Potts, Sharon Shalvi, David Hawkins, Harris Cauler, Mike Russell |
| | |