WINNER!
THE WEB MARKETING ASSOCIATION IS PROUD TO PRESENT THIS 2017 MOBILEWEBAWARD FOR OUTSTANDING ACHIEVEMENT IN MOBILE DEVELOPMENT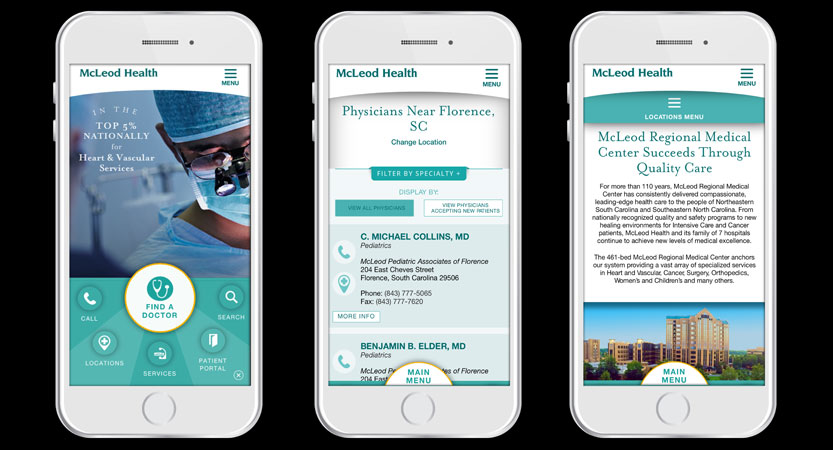 To: LHWH Advertising & PR
For: McLeod Health Mobile Site
Award: Best Healthcare Provider Mobile Website
Click here to see entry creative
About the Entry


Our audience is everyone in the community in which McLeod Health's seven hospitals and their staff of over 8,000 serves. Today, McLeod Health's service areas stretch over 18 counties in North and South Carolina. When it comes to receiving the best health care in this region, many residents believe that you have to travel all the way to the Medical University of South Carolina in Charleston – or Duke Health in Durham, North Carolina. For those living in the middle of the state, this could mean a 5-hour round trip. Our goal in designing the new website for McLeod Health was to elevate the McLeod Health brand to look and feel as cutting edge as the medical excellence that they offer to the community. We did this with innovative CSS and UX design. A customized search engine was created for the FIND A DOCTOR functionality to give users all the content they are looking for, with as few clicks as possible. The website's ongoing 'movement' within its design helps give a sense that McLeod Health and its team are constantly in action and in motion – working their hardest at delivering quality care. For mobile, our goal was to take full advantage of mobile device features and how users interact with these devices. Using analytics from McLeod Health's old site, we put all the tools that customers most desired – within a thumb's reach. Essentially creating a 'remote control' for better health, via McLeod's website design and their medical excellence.
Award Credits
Contributors:
| | |
| --- | --- |
| Pat Harris: | Interactive Creative Director & Web Designer |
| Dana McDonald: | IT Director & Dev Ops Manager |
| Laura Tyler: | SEO Specialist |
| Laura Tyler & Randy Gerber: | Copywriter |
| Laura Tyler: | Executive Account Director |
| Daniel Monroe: | Account Executive |
| Michael Tidwell: | Video Director |
| Terry Johnson, Chris Vestal & Steve Ellwood: | Digital Artists |
| | |
| | |