WINNER!
THE WEB MARKETING ASSOCIATION IS PROUD TO PRESENT THIS 2012 MOBILEWEBAWARD FOR OUTSTANDING ACHIEVEMENT IN MOBILE DEVELOPMENT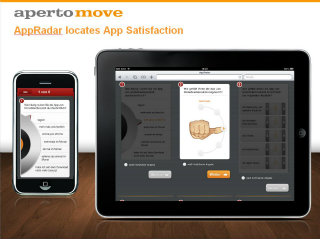 To: Aperto Move / Mindline
For: AppRadar locates App Satisfaction
Award: Best Consulting Mobile Website
Click here to see entry creative
About the Entry


Providers of mobile applications often ask themselves: How great is my application? Do I reach the people I want? How you they like the application?

Aperto move created an innovative and advanced tool to solve these questions. The AppRadar, give the providers a secure way to get the realistic information about the happiness and wishes of the costumer. The tool uses academic research methods and combines it with a great and user-friendly interface and usability. The consumer is able to rate the application, he/she is using right now in, an easy and intuitive way. The provider receives an anonym result list at the end.

Aperto move created, designed and developed the application. The licensed markets research company 'Mindline' evaluates the results of the research and sends the final versions to the provider.

Round about 90% of all mobile applications could be validated and increase their user-experience by using the AppRadar. The combination between the quantitative measuring by using tracking pixle and the qualitative measuring by using the OnSite/ OnApp research, is a successful way of getting the right information about the mobile application.

'Immoscout24', 'KaufDA' and 'HRS' are already using the AppRadar successfully.

Award Credits
Contributors:
| | |
| --- | --- |
| Executive Team Director: | Jan Gessenhardt |
| Senior Mobile Concepter: | Nicole Rummel, Laura Mueller |
| Mobile Frontend Developer: | Guenther Loesel |
| Art Director: | Tayfun Bayram |
| Project Manager: | Julia Werner |
| Mindline: | Torsten Schwermer, Michael Briem, Martin Klapper |
| | |
| | |
| | |
| | |