WINNER!
THE WEB MARKETING ASSOCIATION IS PROUD TO PRESENT THIS 2012 MOBILEWEBAWARD FOR OUTSTANDING ACHIEVEMENT IN MOBILE DEVELOPMENT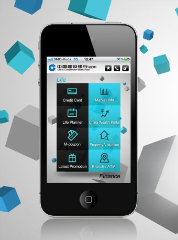 To: China Construction Bank (Asia) Corporation Limited
For: CCB (Asia) Mobile Banking and Applications
Award: Best Bank Mobile Application
Click here to see entry creative
About the Entry


In view of the higher demand for accessibility of information in Hong Kong, majority of local banks are devoting their efforts to develop the mobile banking business.

To CCB (Asia), mobile banking is far more than developing mobile apps that feed customers with product promotions or short-term campaign-based games. As we always think a step further for our customers, thus our focus is to create and develop a sustainable mobile platform to assist and educate our customers or potential customers to better manage their personal finances.

Our Mobile Apps has a user-friendly interface with high compatibility to different operating systems. It consists of various tools such as stock market information, property valuation, life planner and expense management. With the integration of Mobile Banking function, regular and on-going use of the applications can be well sustained. This long-term strategy allows and encourages users to "have CCB (Asia) with them all the time", and hence allows us to serve our customers as well as cross-sell potential customers in the long run with the most relevant offers or promotions.