WINNER!
THE WEB MARKETING ASSOCIATION IS PROUD TO PRESENT THIS 2016 MOBILEWEBAWARD FOR OUTSTANDING ACHIEVEMENT IN MOBILE DEVELOPMENT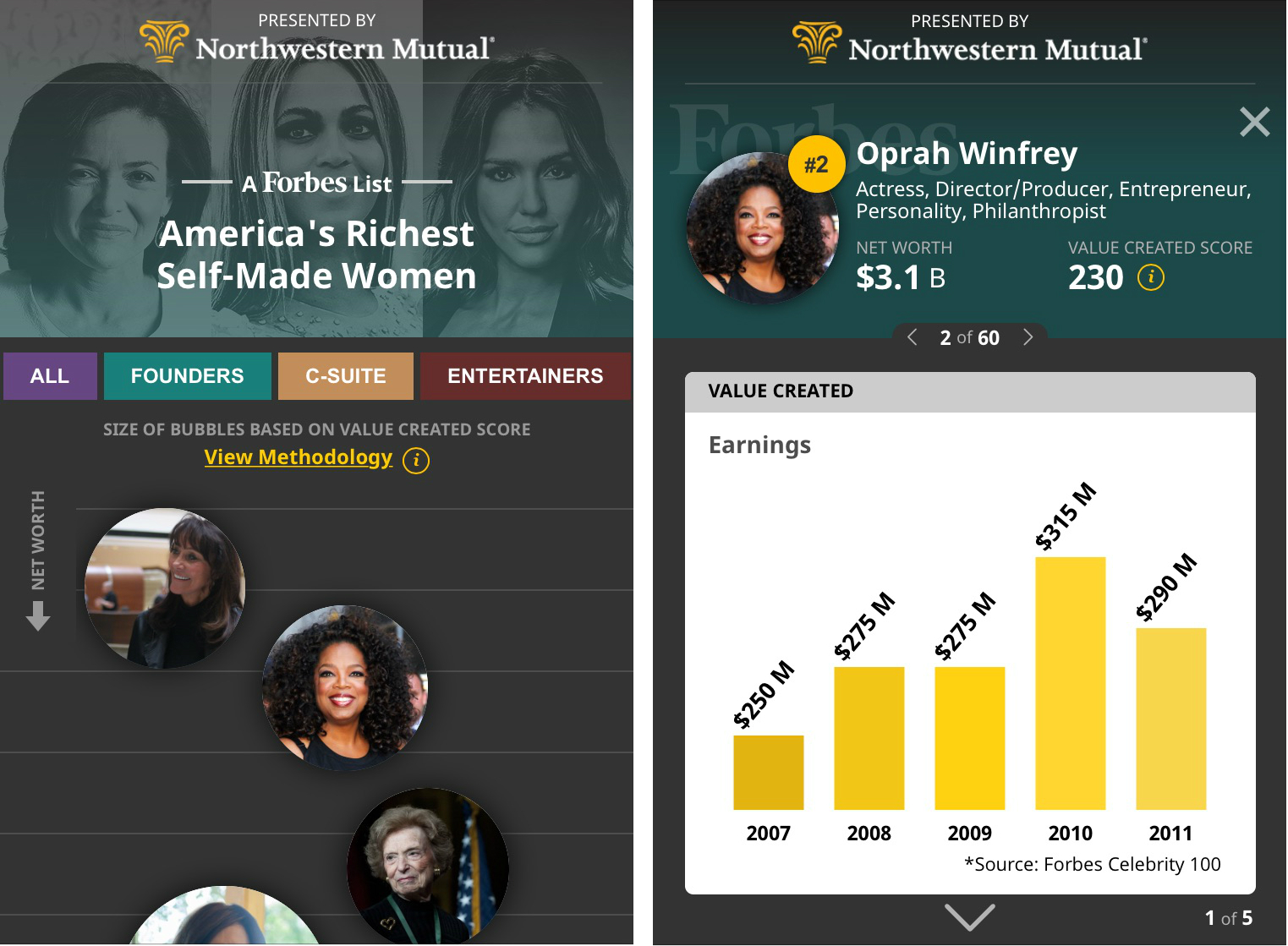 To: Forbes Media
For: Forbes America's Self-Made Women New Mobile List
Award: Best Media Mobile Website
Click here to see entry creative
About the Entry


Forbes lists are considered by many to be the definitive rankings of the wealthiest people, most successful companies and best colleges and places around the world -- and some of the most highly-anticipated content we publish. With 77% of the audience visiting Forbes on mobile, we challenged ourselves to define an interactive, mobile-only experience for Forbes lists that encourages this smartphone-wielding faction of readers to explore the content, by deconstructing the presentation of list data and creating what we've dubbed a Mobile Infographic experience.

The 2016 edition of the Forbes America's Self-Made Women (ASMW) list ranks 60 of the most successful women according to their net worths. The entry point for the ASMW Mobile Infographic serves as a visual snapshot that contrasts two defining metrics related to value and performance and instantly tells the story behind the list: a comparison of net worth and value created. This view can also be filtered to display subsets of the women on the list by category: Founders, C-Suite or Entertainers. Once the user has decided to explore one of these women's profiles, they're taken to a stack of cards that can be navigated via swipe gestures, and that allows a dive into the data behind each person on the list. Vertical swiping through the cards takes you deeper into the data for any person whose profile you've chosen to explore; swiping left and right allows you to easily browse the list. The Mobile Infographic delivers an interactive visual experience constructed around bite-size information -- a choose-your-own-adventure design -- that we determined is exponentially more engaging than the equivalent mobile list format.

The results: Six times the engagement and session lengths that doubled for users who interacted with the Mobile Infographic vs. those who interacted with the mobile list.


Award Credits
Contributors:
| | |
| --- | --- |
| Chief Product Officer: | Lewis D'Vorkin |
| Head of Mobile Products: | Salah Zalatimo |
| Product Owner : | Ebony Shears |
| Senior Front-End Developer: | Johnny McCampbell |
| Senior Front-End Developer, Mobile Focused: | Joe Pietruch |
| UX Designer : | Irwin Hou |
| Art Director : | Nina Gould |
| | |
| | |
| | |