WINNER!
THE WEB MARKETING ASSOCIATION IS PROUD TO PRESENT THIS 2016 MOBILEWEBAWARD FOR OUTSTANDING ACHIEVEMENT IN MOBILE DEVELOPMENT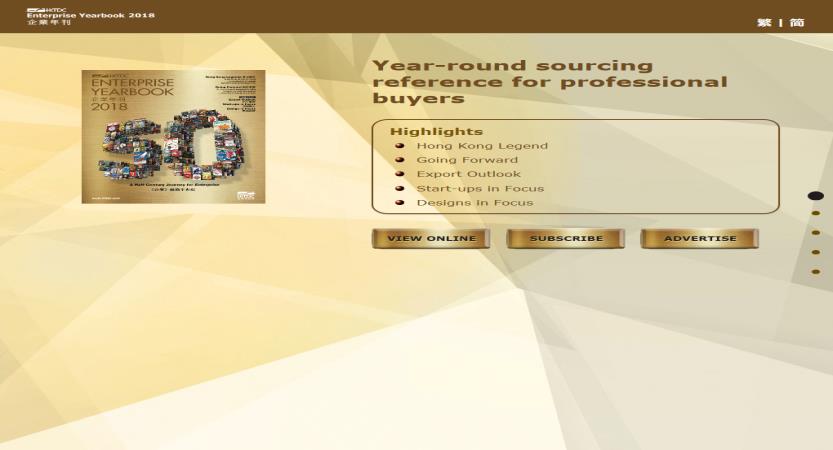 To: Hong Kong Trade Development Council
For: HKTDC Enterprise Yearbook Mobile Site
Award: Best Magazine Mobile Website
Click here to see entry creative
About the Entry


HKTDC Enterprise Yearbook is a year-round sourcing reference featuring a wide range of products and services from quality suppliers and service providers. Its comprehensive company profiles, product information and service listings, as well as its extensive editorial contents and market intelligence make it a must-read sourcing title for global traders. Buyers who want information on quality suppliers will find valuable leads from this magazine, which provides detailed company profiles of quality suppliers. The Enterprise Yearbook has consistently evolved and strengthened its content to serve as an effective sourcing platform connecting buyers and suppliers around the world. Transforming with the digital era, the Enterprise Yearbook is now available in mobile app and online versions, presenting a rich variety of buying opportunities and enabling buyers to send enquires to suppliers on-the-go. With more than 300 suppliers and over 500 pages of buyer-centric content, the Enterprise Yearbook 2016 includes regular features on topics such as the Global export outlook for 2016, the Belt and Road initiative, and a list of important trade fairs and activities organised by the HKTDC. The Enterprise Yearbook 2016, reaching 460,000 quality buyers from 200 countries and regions, is mailed directly to import-related, international buyers, including top businesses around the world. It is also available at the business centres of many hotels in Hong Kong and overseas, as well as airline lounges of the international airports. The HKTDC also distributes the publication to VIP buyers via its global network of 46 offices worldwide and at its local and overseas trade fairs, as well as promotes via electronic channels to its 1,700,000+ online registered buyers.