WINNER!
THE WEB MARKETING ASSOCIATION IS PROUD TO PRESENT THIS 2016 MOBILEWEBAWARD FOR OUTSTANDING ACHIEVEMENT IN MOBILE DEVELOPMENT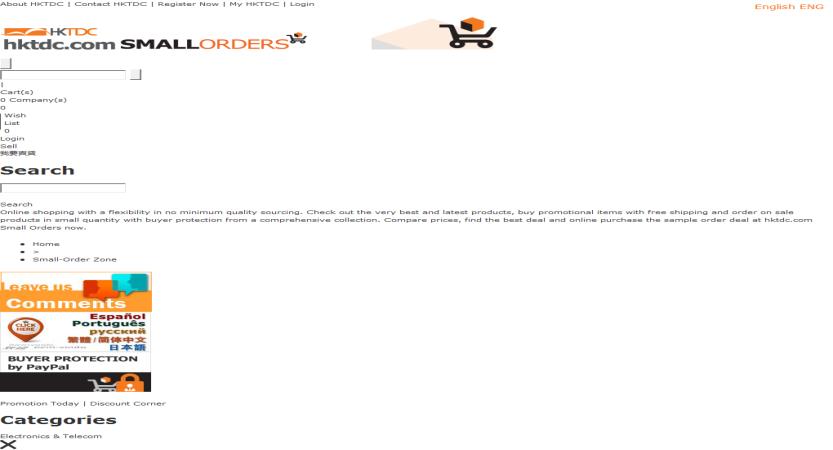 To: Hong Kong Trade Development Council
For: hktdc.com Small Orders Mobile Site
Award: Best Small Business Mobile Website
Click here to see entry creative
About the Entry


Hong Kong Trade Development Council (HKTDC) recognises that today's buyers are increasingly seeking suppliers accepting smaller quantity orders to address shorter product life cycle, test the market and minimize inventory. In response to this trend, HKTDC launched an online-to-offline integrated hktdc.com Small Orders initiative.

hktdc.com Small Orders (http://smallorders.hktdc.com) is a business-to-business online sourcing platform for international buyers, creating new business opportunities and flexibility for direct sourcing quality products in small quantities. This online trading platform features more than 100,000 products accepting small-volume orders ranging from 5 to 1,000 units, allowing buyers to source all year round.
Detailed product specifications, minimum order quantity, unit price, delivery options, cost, and lead time are available online to facilitate online transactions between buyers and suppliers. Buyers have the convenience of using credit cards or their PayPal accounts to settle online payment. In view of the increasing popularity of mobile devices, the hktdc.com Small Orders used common mobile-friendly design that is similar to business-to-consumer websites in the market, to strengthen the connections between buyers and suppliers.
Selected online products are showcased at the hktdc.com Small Orders product display zone of the 11 HKTDC's world-class trade fairs in Hong Kong, allowing trade fair buyers to see the physical products and place instant orders. The online and offline hktdc.com Small Orders collectively generated 1,700,000 business connections for over 10,000 small- and medium-sized suppliers since its launch.