WINNER!
THE WEB MARKETING ASSOCIATION IS PROUD TO PRESENT THIS 2015 MOBILEWEBAWARD FOR OUTSTANDING ACHIEVEMENT IN MOBILE DEVELOPMENT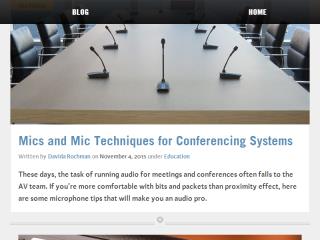 To: Shure Incorporated
For: Shure Incorporated Blog
Award: Best Music Mobile Website
Click here to see entry creative
About the Entry


Shure, a worldwide leader in audio electronics, brings relevant information, answers and advice to the extensive, global audience that audio unites via the Shure Blog. The site not only delivers timely and relevant news updates to its readers, it also offers profiles of industry artists and engineers, provides informational "how-to" and problem solving advice and features a variety of multimedia assets—both visual and graphic—for a dynamic user experience.

Its mobile version—which is compatible with all smartphone and tablet devices—has a clean, seamless aesthetic that allows readers to easily navigate the site and browse by topic, author, or scroll through the latest entries on the homepage. Whether being read on desktop or device, readers are given the tools to seamlessly share the posts via social channels or a shortened URL. Other functionalities include the ability to comment or view related posts.

The goal of the Shure blog is to offer educational insights to readers in every facet of the industry—from house of worship audio tech teams, to live sound engineers touring with today's biggest artists, to the music-loving consumer looking to learn how to clean a pair of earphones—the blog is written in a conversational voice that makes even the most technical topics easier to understand.