WINNER!
THE WEB MARKETING ASSOCIATION IS PROUD TO PRESENT THIS 2015 MOBILEWEBAWARD FOR OUTSTANDING ACHIEVEMENT IN MOBILE DEVELOPMENT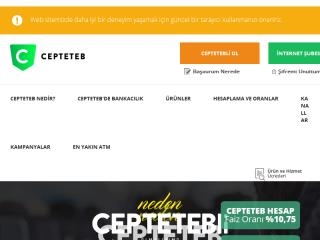 To: Türkiye Ekonomi Bankası
For: CEPTETEB
Award: Best Bank Mobile Application, Best Employment Mobile Application, Best Mobile Industry Mobile Application
Click here to see entry creative
About the Entry


1. Title of the Innovation
A new retail banking channel for tech savvy customers: TEB launched its all-digital banking platform, dubbed CEPTETEB ("TEB in your pocket"), designed primarily for digital channels such as mobile, ATM, Internet and call centres – unveiled across all platforms, and featuring breakthrough design elements.
2. Summary of the Innovation
TEB (BNP Paribas Turkey) has launched a branchless banking channel, CEPTETEB which is designed to appeal to a young urban population who is ultra-connected, mobile and independent.
CEPTETEB takes the customer experience out of the branch entirely, enabling key transactions via mobile banking, internet banking, call center and ATMs (also available in Apple Watch, Google Glass, and Samsung Smart Watch). Products and features are simple and easy to use; for example customers can open a CEPTETEB account via web, mobile app, or by contacting the call center, eliminating the need to go the branch. CEPTETEB also introduces new features, such as:
• QR wallet;
o To send money to any phone number (P2P), to shop on e-commerce sites and even to withdraw money from ATMs without a physical card.
o Passing through turnstiles at Istanbul Sea Buses (IDO) terminals with the QR Code by defining IDO Fast Track feature to the credit card.
• Targeted content via beacons; to send contextual messages to customers via mobile
• A control panel; to customize the user and account preferences across the entire bank
• Smart search; a powerful recommendation algorithm to find and execute online/mobile transactions
• Webchat: users can directly converse with bank personnel about questions or requests.
• HCE: Making contactless payments of up to 50 liras using their phone without opening the app or entering a PIN once again".

Award Credits
Contributors:
| | |
| --- | --- |
| Director of Digital Banking: | Deniz Devrim Cengiz |
| | |
| | |
| | |
| | |
| | |
| | |
| | |
| | |
| | |