WINNER!
THE WEB MARKETING ASSOCIATION IS PROUD TO PRESENT THIS 2015 MOBILEWEBAWARD FOR OUTSTANDING ACHIEVEMENT IN MOBILE DEVELOPMENT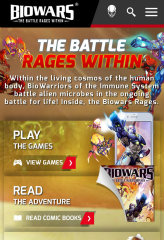 To: Blue Fountain Media
For: Biowars Mobile Website
Award: Best Game Site Mobile Website
Click here to see entry creative
About the Entry


BIOWARS tells the story of BioWarriors, cells of the human immune and nervous systems which are given humanoid forms but retain their real-life biological powers, and the human realm they inhabit, called BioCosmos. BioWarriors are the heroes and protectors of their realm, and it's their job to protect BioCosmos from invading alien microbes (viruses and bacteria) as well as deadly mutant cells gone awry in the battle for life.

The BIOWARS interactive website and online community allow fans to read and download free digital comic book issues, play a series of app games, learn more about the characters and their real-life counterparts, upload their own stories and artwork, engage with other fans of the comic series, play online and social media games, and much more.