WINNER!
THE WEB MARKETING ASSOCIATION IS PROUD TO PRESENT THIS 2015 MOBILEWEBAWARD FOR OUTSTANDING ACHIEVEMENT IN MOBILE DEVELOPMENT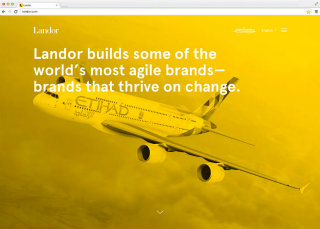 To: Landor
For: Landor.com
Award: Best Professional Services Mobile Website
Click here to see entry creative
About the Entry


Landor helps build some of the world's most agile brands—brands that thrive on change. We partner with clients in myriad industries to build brands that engage audiences across channels and platforms.

Our primary audience is prospective clients assessing whether to work with Landor. We also enjoy visits from marketers and designers looking for advice and inspiration, and top talent looking for exciting work and a rewarding culture.

The site is built on a flexible CMS that is easily updated, responsive, and optimized for mobile, and available in English, Chinese, and Japanese. The design is bold and engaging, and features photography of Landor's work in the real world. Early stats promise longer stays on site and deeper engagement.
Award Credits
Contributors:
| | |
| --- | --- |
| Chief Creative Officer: | Peter Knapp |
| Global Marketing Director: | Trevor Wade |
| Senior Designer: | Marissa Winkler |
| Senior Manager, Naming & Writing: | Phyllis Murphy |
| Director, Naming & Writing: | Julie Doughty |
| Marketing Associate: | Hannah Foltz |
| Development Partner: | Area 17 |
| | |
| | |
| | |