WINNER!
THE WEB MARKETING ASSOCIATION IS PROUD TO PRESENT THIS 2015 MOBILEWEBAWARD FOR OUTSTANDING ACHIEVEMENT IN MOBILE DEVELOPMENT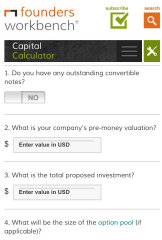 To: Goodwin Procter LLP
For: Founders Workbench Toolbox
Award: Best Legal Mobile Application
Click here to see entry creative
About the Entry


Founders Workbench, powered by Am Law 50 firm Goodwin Procter LLP, is a free online legal advisory and business resource that helps entrepreneurs navigate the legal and organizational challenges faced by startup companies and emerging companies. The Capital Calculator mobile application from Founders Workbench allows startup founders to input certain variables, including:

• Outstanding convertible notes
• Company's pre-money valuation
• Total proposed investment
• Size of the option pool
• Preferred shares participating
• Total accrued or declared and unpaid dividends on the preferred shares
• Exit value of the company

With these inputs, the app will calculate the dilution founders will experience when taking outside funding and the distribution of proceeds in a hypothetical exit event, based on certain assumptions.

Award Credits
Contributors:
| | |
| --- | --- |
| Partner, Goodwin Procter: | Bob Bishop |
| Partner, Goodwin Procter: | Dave Cappillo |
| Partner, Goodwin Procter: | John Egan |
| Associate, Goodwin Procter: | Jennifer Fang |
| Managing Director of Marketing, Goodwin Procter: | Nancy Kostakos |
| Director, Technology Practice, Goodwin Procter: | Alicia Mack |
| Managing Director of Strategy, One North Interactive: | Kalev Peekna |
| Managing Director, Creative Services, One North Interactive: | Nate Denton |
| | |
| | |