WINNER!
THE WEB MARKETING ASSOCIATION IS PROUD TO PRESENT THIS 2015 MOBILEWEBAWARD FOR OUTSTANDING ACHIEVEMENT IN MOBILE DEVELOPMENT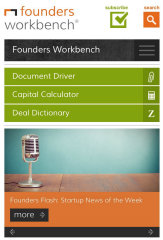 To: Goodwin Procter LLP and One North Interactive
For: Founders Workbench Mobile Site
Award: Best Legal Mobile Website
Click here to see entry creative
About the Entry


Founders Workbench, powered by Am Law 50 firm Goodwin Procter LLP, is a free online legal advisory and business resource that helps entrepreneurs navigate the legal and organizational challenges faced by startup companies and emerging companies. Originally launched in 2010 with free legal documents for C-Corporation formation, Goodwin Procter rebranded, redesigned and re-launched the site in 2013, enhancing the offerings to include an additional comprehensive set of legal documents for establishing Limited Liability Companies (LLCs), and two new web/mobile applications: Capital Calculator, which allows founders to instantly calculate dilution and liquidity under different financing and exit scenarios, and Deal Dictionary, which introduces founders to the often obscure legal and financial terms used by venture capitalists and angel investors. Since the re-launch, the firm has added additional resources, including Founders University educational videos, and a soon-to-be launched Founders Finder tool pointing users to valuable resources across the web.
Award Credits
Contributors:
| | |
| --- | --- |
| Partner, Goodwin Procter: | Bob Bishop |
| Partner, Goodwin Procter: | Dave Cappillo |
| Partner, Goodwin Procter: | John Egan |
| Associate, Goodwin Procter: | Jennifer Fang |
| Managing Director of Marketing, Goodwin Procter: | Nancy Kostakos |
| Director, Technology Practice, Goodwin Procter: | Alicia Mack |
| Director, Enterprise Applications and Development, Goodwin Procter: | Andy Kawa |
| Senior Knowledge Management Manager and Counsel, Goodwin Procter: | Patty Johansen |
| Managing Director of Strategy, One North Interactive: | Kalev Peekna |
| Managing Director, Creative Services, One North Interactive: | Nate Denton |