WINNER!
THE WEB MARKETING ASSOCIATION IS PROUD TO PRESENT THIS 2015 MOBILEWEBAWARD FOR OUTSTANDING ACHIEVEMENT IN MOBILE DEVELOPMENT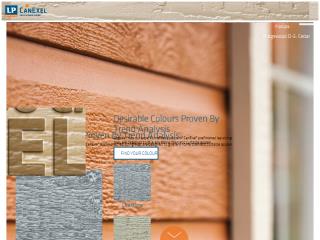 To: Hitchcock Fleming & Associates
For: LP CanExel: You Can Tell It's CanExel
Award: Best Home Building Mobile Website
Click here to see entry creative
About the Entry


LP CanExel, manufacturers of premium prefinished exterior siding, needed to show Canadian homeowners the value of choosing CanExel, the original brand that built generations of quality homes in Canada. Creative messaging focuses on durability, prefinish quality, wood grain appearance and the legacy of its proven product. Above all, hfa wanted to focus on the beauty that only authentic LP CanExel can provide. This integrated campaign features a new responsive website, display ads, a brochure and print ads to convey relevant reasons why homeowners should raise their expectations when choosing prefinished siding. Awareness pieces show lifestyle examples and product attributes to help connect with homeowners on a personal level. When homeowners click through to the site, they are presented with an immersive experience that includes videos, beautiful product close-ups and calls to action to find a local CanExel Dealer.
Award Credits
Contributors:
| | |
| --- | --- |
| Executive Creative Director: | Tracy McCutcheon |
| Creative Director: | Brad Istnick |
| Senior Account Manger: | Gina Simpson |
| Senior Copywriter/Creative Lead: | Cheryl Boehm |
| Senior Art Director/Creative Lead: | Todd Moser |
| Art Director: | Andrew Hernandez |
| Senior UX Architect: | Marie Lepley |
| Senior Digital Architect: | Tyler Clark |
| Digital Architect: | Harold Knieriem |
| Project Manager: | Ashley Thompson |