WINNER!
THE WEB MARKETING ASSOCIATION IS PROUD TO PRESENT THIS 2015 MOBILEWEBAWARD FOR OUTSTANDING ACHIEVEMENT IN MOBILE DEVELOPMENT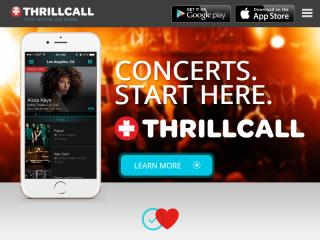 To: Thrillcall and WillowTree
For: Thrillcall Live Music
Award: Best Music Mobile Application
Click here to see entry creative
About the Entry


For true live-music fans, little is worse than a case of FOMO (fōmō/ noun, informal - Anxiety that an exciting or interesting event may currently be happening elsewhere, often aroused by posts seen on a social media website). Live-event discovery service, Thrillcall, set out to eliminate this problem by creating an app to deliver up-to-the-minute concert information to users. Bringing this vision to life meant designing and developing a mobile solution capable of scouring the Internet around the clock to pull live-event data like concert date & time, location & venue (e.g. phone, address, map), headliner song previews, ticket links, prices, and concert-sale dates. Thrillcall knew live-music fans wanted more than information alone from an app, though, they also demanded and thrived on incredible experiences online and offline. To really give music fans what they wanted, Thrillcall needed to create a personalized in-app experience users wouldn't be able to find anywhere else. Pulling it off required integrating every popular music-streaming service like iTunes, Spotify, Pandora, and Rdio, so the app would automatically know which bands, artists, and songs individual users loved most. Thrillcall Live Music also features Apple Passbook integration, making it fast and simple for users to purchase and access concert tickets using the Passbook app on iPhone. Enhanced event-discovery functionality leveraging GPS enables users to set their preferred location, and acceptable geographic radius for concerts they are interested in attending. Users can also receive widget notifications when artists they track put tickets on sale or announce tour dates.