WINNER!
THE WEB MARKETING ASSOCIATION IS PROUD TO PRESENT THIS 2015 MOBILEWEBAWARD FOR OUTSTANDING ACHIEVEMENT IN MOBILE DEVELOPMENT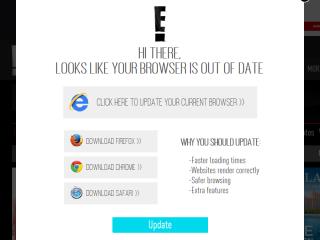 To: E! Entertainment
For: "Live From the Red Carpet" Digital Properties
Award: Best Entertainment Mobile Website
Click here to see entry creative
About the Entry


E!'s "Live From The Red Carpet" digital properties are the ultimate destination for complete red carpet coverage and enable fans around the globe to enjoy a fully immersive red carpet experience. The "Live From The Red Carpet" apps and E! Online page also serve as a second screen to the popular ""Live From The Red Carpet"" telecast. The interactive digital experience showcases top industry events while providing a unique, immersive dual screen viewing experience for E!'s audience, taking them behind the velvet rope at Hollywood's biggest events. We bring fans unprecedented access to these events highlighted by an insider's view of the star-studded arrivals and fabulous fashion as well as inside scoop through one-on-one celebrity interviews, social interaction with other fans worldwide and much more. E!'s digital properties provide a complete "Live From The Red Carpet" experience for users tuning in to the linear broadcast through live streams, the Glam Cam, Pose-Off and Social Central along with countless news features, photo galleries, videos and more. One of the key interactive features on both the app and E! Online is an exclusive second screen live stream that airs in tandem with E!'s "Live From The Red Carpet" coverage on air. The unique web show features exclusive feeds from E!'s cameras along the carpet, hosted live segments during linear commercial time, hundreds of "Live From The Red Carpet" video clips featuring everyone's favorite stars, real time Twitter trends and Facebook sentiment polling results. Another key feature is the GlamCam 360, E!'s futuristic, Matrix-like camera that provides a total, all around view of the hottest red carpet fashion. These digital properties offer the best red carpet experience for our users and viewers on all platforms, increase engagement and affinity, and continue E!'s dominance as the premiere destination for red carpet coverage. E! remains the top multi-platform, global destination for red carpet coverage on Hollywood's biggest nights. In 1Q15, E! is delivered its best ever Q1 awards season with record high unique visitors (20M mobile, 13M desktop), page views (373M), and video views (6.9M) across desktop and mobile. LRC'S three core shows (Live from the Red Carpet, The Countdown and After Party) delivered well over a half million social mentions (549K) combined, up +73% vs. 2014.