WINNER!
THE WEB MARKETING ASSOCIATION IS PROUD TO PRESENT THIS 2015 MOBILEWEBAWARD FOR OUTSTANDING ACHIEVEMENT IN MOBILE DEVELOPMENT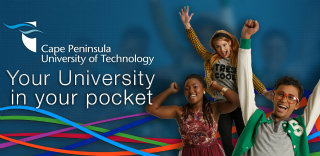 To: Cape Peninsula University of Technology
For: CPUT Mobile app
Award: Best University Mobile Application
Click here to see entry creative
About the Entry


CPUT has over 33,000 students and 4,000 staff scattered across nine campuses. Every one of these people accesses vital information from the many digital platforms of communication that CPUT provides. Without high end laptops, many of the people cannot consume any digital information while on the go. Hence they lose touch with their University, are less productive and begin to doubt that CPUT is a University of Technology. This result does not bode well with the institutional vision relating to the provisioning of an enabling environment. Therefore, for the sake of improved communication, a digital solution was adopted in the form of a mobile app. Just over 21% of the 52 million website hits recorded over the past 18 months were from mobile phones and tablets.

This project deliberately targeted current students and staff. On launch (2 December 2014), our in-house talent had developed the app to drive information to prospective students, prospective staff, alumni and visitors.

CPUT was effectively able to condense 100% of all critical digital communication systems into this small app. This meant that the University could deliver on a single, simple promise to its people – to have their University, in their pocket.

This simple promise meant that, for the student on holiday in rural South Africa they could use their hand-me-down old Blackberry phone to quickly check their examination results. For the student in a crowded and unsafe taxi, rushing to class because they are late for class, their phone can get announcements from their lecturer.

Award Credits
Contributors:
| | |
| --- | --- |
| Developer: | Lovemore Nalube |
| Designer: | Ashley Jones |
| | |
| | |
| | |
| | |
| | |
| | |
| | |
| | |