WINNER!
THE WEB MARKETING ASSOCIATION IS PROUD TO PRESENT THIS 2015 MOBILEWEBAWARD FOR OUTSTANDING ACHIEVEMENT IN MOBILE DEVELOPMENT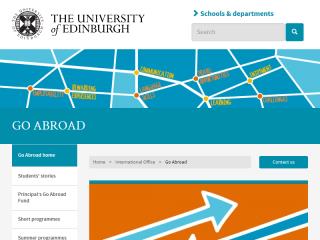 To: University Website Programme
For: University of Edinburgh
Award: Best Education Mobile Website
Click here to see entry creative
About the Entry


The University of Edinburgh is a world-leading centre of academic excellence and makes a significant, sustainable and socially responsible contribution to Scotland, the UK and the world, promoting health and economic and cultural wellbeing.

So our website serves diverse audiences across the globe; it supports undergraduates just starting on their academic careers; attracts international research students; enables graduates to maintain their connections with us and other alumni; and helps staff connect with each other's work.

The website reflects the devolved and independent spirit of the University. Under a consistent banner and branding, our website is delivered by 800 people across the University to create the best user experience possible.

Each of the 200+ subsites are produced to the same accessibility, usability and compliance standards but each reflects the interest focus of its key audience. Our centrally-delivered copywriting courses empower local editors to communicate effectively whilst maintaining a consistent voice and approach. Our training enables devolved teams to adopt flexible editing and publishing approaches whilst benefitting from central innovation. Our website publishing community reflects the mutually supportive atmosphere of the University, an experience now extended via social media to include all our students and alumni in a lifelong University community.