WINNER!
THE WEB MARKETING ASSOCIATION IS PROUD TO PRESENT THIS 2012 MOBILEWEBAWARD FOR OUTSTANDING ACHIEVEMENT IN MOBILE DEVELOPMENT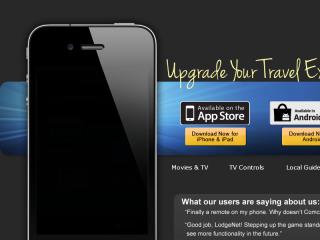 To: LodgeNet Interactive Corporation
For: LodgeNet Mobile
Award: Best Hotel and Lodging Mobile Application
Click here to see entry creative
About the Entry


Smartphones and tablets have become travelers' constant companions. Whether on business or vacation, travelers are relying on mobile devices during every phase of their trip. The LodgeNet Mobile App was designed to make the in-market travel experience better for both the traveler and host hotel. It is intended to be the "go-to" app after airlines, hotels, and car rentals have been booked and travelers turn their attention to enjoying their trip. Where's the best place to eat? What can I do in my hotel? Which great movie can I watch after doing business or sightseeing? The intent is to provide travelers with quick and easy access to timely and contextual information as well as the means to act upon it. Whether using their phone or tablet to control the in-room TV, rent a movie, or order food poolside, LodgeNet Mobile is about connecting travelers to the things that matter most to them. For our partner hoteliers LodgeNet makes life easier by providing an app that dynamically updates with property-specific information and services depending on guest location. We are also, through an integrated marketing campaign of PR, print, web and social media, building a user base and delivering app users through the front door and into the rooms of our hotel partners. The LodgeNet Mobile App was named App of the Week by Radio-Info.com and has received national media coverage including a profile in USA Today and feature segments on CNBC and Fox Business News.
Award Credits
Contributors:
| | |
| --- | --- |
| VP, Interctive & Mobile: | Todd Kelly |
| Project Manager: | Andy Anderson |
| Senior User Interface Engineer: | Derin Zerr |
| Director, Interactive Desig: | Kara Heermans |
| Interface Designer: | Wade Cook |
| | |
| | |
| | |
| | |
| | |