WINNER!
THE WEB MARKETING ASSOCIATION IS PROUD TO PRESENT THIS 2013 MOBILEWEBAWARD FOR OUTSTANDING ACHIEVEMENT IN MOBILE DEVELOPMENT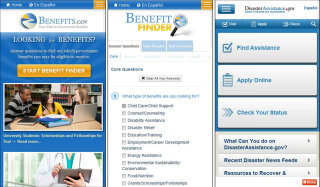 To: Benefits.gov
For: Benefits.gov Mobile Strategy Campaign
Award: Outstanding Mobile Website
Click here to see entry creative
About the Entry


This entry is for the Benefits.gov Mobile Strategy Campaign whifdach transitioned both Benefits.gov and DisasterAssistance.gov to Responsive Design based mobile-compatible websites. A link to DisasterAssistance.gov can be found on the Benefits.gov homepage. Benefits.gov has the mission to increase public access to government benefit program information. DisasterAssistance.gov connects disaster survivors with Federal Forms of Assistance. The decision to develop a Mobile Strategy for these sites stemmed from a combination of the 2012 Digital Government Strategy and the evolving needs of citizens, evidenced by our Google Analytics metrics. By October 2012, mobile users represented more than 20% of all Benefits.gov traffic and during Hurricane Sandy mobile traffic accounted for 25% of DisasterAssistance.gov visitors, in part due to citizens relying on mobile devices during evacuations or power outages. To this end, on July 1, 2013 our Responsive Design sites were launched, featuring English and Spanish content that is easily accessible regardless of the user's platform or operating system. Since implementing Responsive Design, mobile use has drastically increased: on Benefits.gov mobile visits have increased by almost 60% and on DisasterAssistance.gov mobile visits have increased by 55%, compared to the same time period in 2012. To customize users' experiences, both sites offer personalized eligibility prescreening services in the form of questionnaires (Benefits.gov has the "Benefit Finder" while DisasterAssistance.gov has the "Find Assistance Questionnaire"). Additionally, Benefits.gov offers email subscription services for specific program updates and a quarterly eNewsletter published on the site while DisasterAssistance.gov offers users the ability to directly apply for assistance online.
Award Credits
Contributors:
| | |
| --- | --- |
| Program Manager, Benefits.gov: | Al Sloane |
| Program Manager, DisasterAssistance.gov: | Karole Johns |
| | |
| | |
| | |
| | |
| | |
| | |
| | |
| | |