WINNER!
THE WEB MARKETING ASSOCIATION IS PROUD TO PRESENT THIS 2012 MOBILEWEBAWARD FOR OUTSTANDING ACHIEVEMENT IN MOBILE DEVELOPMENT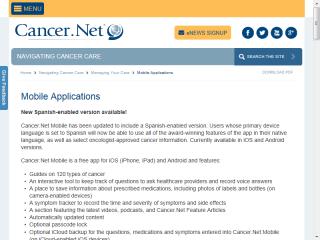 To: American Society of Clinical Oncology (ASCO)
For: Cancer.Net Mobile
Award: Outstanding Mobile Application
Click here to see entry creative
About the Entry


The goal of ASCO's patient education program is to provide credible, reliable, oncologist-approved cancer information to the public. After creating an award-winning patient website, Cancer.Net, and establishing a presence on leading social media sites, the natural progression for ASCO was to create a complementary mobile application. The goal of the application was to create a tool that cancer patients and their caregivers could use on a daily basis to track their cancer care. After much research, we determined the most helpful tools that we could provide would be a symptom tracker, medication tracker, and question tracker. To help keep reliable cancer information at the user's fingertips, we included some of the most popular content on Cancer.Net in the app, as well as information on 120 cancer types. Finally, we included multimedia content, such as videos from the Cancer.Net YouTube channel and audio from our Cancer.Net Podcasts series, all automatically updated. We wanted something that people could count on to make their care go smoother, and we've heard very positive feedback from both patients and doctors stating that Cancer.Net Mobile has made it much easier to keep track of care.
Award Credits
Contributors:
| | |
| --- | --- |
| Editor-in-Chief, Cancer.Net: | Diane Blum |
| Senior Director, Communications and Patient Information: | Kristin Ludwig |
| Director, Communications and Patient Information: | Lynne Blasi |
| Assistant Director, Patient Education and Advocacy: | Marci Cleary |
| Manager, Cancer.Net Operations: | Brendan Kelly |
| Senior Technical Lead, Integrated Media and Technology: | Naveen Damerla |
| Web Developer, Integrated Media and Technology: | Satya Sankuratri |
| Senior Vice President, The Corkery Group: | Christopher Adasiewicz |
| Senior Vice President, The Corkery Group: | Jacob Potter |
| | |